FlowPlumb™ Rainwater Gutter Systems are available in a range of sizes and profiles to suit any requirement, including the largest plastic rainwater gutter in the world – our 200mm Industrial gutter.
However, its not just choice of size that we're famous for! Our Rainwater guttering systems are available in black, white, brown and grey, giving you freedom of choice when it comes to design.
Black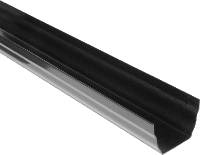 The timeless classic. Our dual layered "co-extrusion" technology gives our gutters an extra shine which really shows through on black. Any of our profiles in black makes a statement of importance and seriousness.
White
A very popular choice, white gutters go with any colour of roof or wall and unlike other gutter systems on the market, ours contain UV stabilisers so the colour won't fade or "yellow" in the case of white gutters.
Brown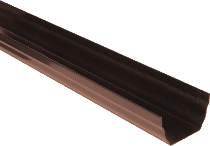 Most FlowPlumb™ Gutter systems are available exclusively through Decra, Gerard or Fortiza stone coated metal roof tile Distributors. Brown FlowPlumb™ gutters work particularly well with these systems.
Grey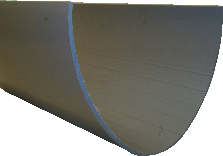 Our larger 170mm and 200mm gutters are also available in grey, a colour  that is gaining in popularity amongst the fashionable set.
For larger projects, we even offer the service of colour matching either the roof or wall colour for a seamless look.
For more information on FlowPlumb™ Rainwater Gutter Systems please visit our webpage or contact us.